MoP Terrace of Endless Spring Raid Boss Guide – In-depth Guide and Video Supported
Below are all you need to know about the MoP Terrace of Endless Spring Guide, how to effectively kill the 6 bosses without being wipeout with MoP TES Boss Guide and gives you an idea on what are the good items to drop. Also provided below are sample videos that might help you to get familiar with the Terrace of Endless Spring and how to dealt with these bosses properly.
Terrace of Endless Spring just opened and now have the chance to loot 'Sha-Touched' weapons that you can find below these are socketed with legendary gems a great weapon to have!
The Terrace of Endless Spring is located in the Veiled Stair, north of Tavern in the Mists and the Black Market Auction House. Its in hidden high in mountains it is the sacred center of the Vale of Eternal Blossoms where you can also found the fountain where you can have a power to heal and rejuvenate.
This raid is available to 10-25 man team and heroic mode located in The Veiled Stair and it will require you to be at least 470 item level for you to access the TES and of course your account must be MoP expansion.
Terrace of Endless Spring
This is sneak peak of Terrace of Endless Spring
ENJOY 10% BONUS GOLD WHEN YOU SHOP NOW AT GUY4GAME!
WoW MoP Terrace of Endless Spring Bosses Guide
Prepare because you will be encountering 6 bosses in this raid. First you will be encountering the three (3) Protectors of the Endless: Protector Kaolan, Elder Asani and Elder Regail.
These are the three corrupted venerated jinyu protectors when Sha of Fear invades the TES. After killing these three, the twisted guardians have now turned their attention to any intruders who might interrupt the sha's attack.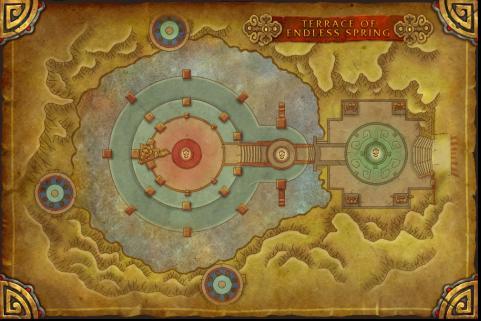 PROTECTOR KAOLAN – is a level 93 Boss Humanoid with 55M to 253.8M health (63.7M-287.9M Heroic). This has Defiled Ground abilities that desecrates the ground beneath a player and inflicting 100,000 Shadow damage every second and increase their damage taken by 10%. Also, watch for Sha's corruption which increases all damage by 25% and grants the Protectors additional abilities.
It is suggested a last boss to kill but be prepared for its Touch of Sha but you must have a 500 ilevel for you to stand on this.
ELDER ASANI – is a level 93 Water Type Humanoid Boss with 55M to 253.8M health (63.7M-287.9M Heroic). Aside from Sha Corruption, you must watch out on its Water Bold that can inflict 46K Nature damage with 3 yards and Overwhelming Corruption that inflicts 10k shadow damage. Also watch out of its Cleansing Waters and Corrupted Waters which can heal 5% of total health and grants 75% melee damage to all of protectors.
ELDER REGAIL – is a level 93 Lightining Humanoid Boss with 55M to 253.8M health (63.7M-287.9M Heroic). This boss hurls a bolt of lighting that inflicts 185K nature damage, you must interrupt this if you want you and your party survive. It also cast magic the Lightning Prison that imprisons 2 players with lightning and stuns them, this also inflict 28K nature damage per second.
TSULONG – is a spiraling-golden serpent that is fiercely protective of the terrace. This is level 93 Dragonkin Boss with 158M health, located in The Veiled Stair. You must watch out for its Shadow Breath and Dread Shadows that inflict 18K shadow damage on all players, it also stacks with increases damage taken by 10%. This also cast Nightmares with inflict 63K shadow damge and fear players for 3 sec.
LEI SHI – is friendly water spirit froilicked in the FES with childlike wonder and glee. This is a level 93 Elemental Boss with more than 125M health and also located at the Veiled Stair. You must watch out for its Afraid which she gains 8% casting speed for each 10% total health lost. It also cast Spray which inflict 128K frost damage in 2.5 yards range and increase damage taken by 12% for 10 sec. Also at 80%, 60%, 40%, and 20% of Lei Shi health it will cast Protect – an impenetrable bubble and animates several elementals to protect her.
SHA OF FEAR – Sha of Fear is a physical manifestation terror in Pandaria which was imprisoned by legendary pandaren emperor Shaohao. This is also a level 93 Elemental boss with more than 167M health. Watch out for its skills: Breath of Fear that inflicts 225k shadow damage and fear for 5 sec, Eerie Skill that inflicts 37K shadow damage and Penetrating Bolt which inflicts 44K shadow damage and increase the damage by 25% for 15 sec.
Terrace of Endless Spring Raid Videos
Here are some videos I gathered that might help you and gives you an idea on how this raid to be done.
We highly recommend you read this Terrace of Endless Spring Guide by Mysticknight. for an in-depth strategy how to kille this bosses. For a side note, this run will requires you to have a Tanks (2), Healers (2) and DPS (6).  Watch out the video below..
CLICK HERE FOR 100% SAFE AND DELIVERY GUARANTEE WOW GOLD!
For a cheap and safe WoW Gold and want to experience a 24-hour delivery guarantee, shop now at koalacredits. For reviews, user feedback and coupons visit Koala Credits Review.
Special thanks to us.battle.net and wowhead.com for image and content source.