SWTOR Patch 1.5 Highlights – Release Date and Patch Notes
Below are highlights of SWTOR Patch 1.5, complete patch notes and in deep discussion on how to acquire the SWTOR HK-51 and missions at Section X. Also, know more about SWTOR transitions to Free-to-Play.
The SWTOR Patch 1.5 has officially launched with new features and keeps on bringing the players to the re-imagination of one of our favorite characters from the universe of the Old Republic. Jeff Hickman, SWTOR Executive Producer and Blaine Christine, Sr. Producer happy to announced updates and game changes in Star Wars: The Old Republic. With this transition it makes he game more exciting and they'll make sure players are having good time.
BUY SWTOR CREDITS AT GUY4GAME! 15 MIN DELIVERY, 100% SAFE!
So let me give you the highlights of SWTOR Patch 1.5
With SWTOR Patch 1.5, the Free-to-play option is now activated, to know more about the perks of a subscribing player over a free account user, kindly read my previous post SWTOR Free-to-play.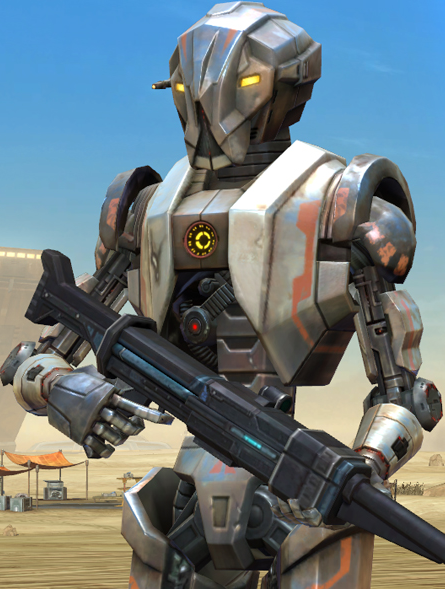 Now all players will have access to the newest model of infamous Assassin Droid – HK-51.
HK-51 is a HK-series assassin droid, a companion available to all classes in both factions. This is advanced versions of HK-50 Assassin droids that are constructed to kill sentient being on behalf of crime lords, corrupt politicians and bounty hunters.
For detailed guide on how to acquire the SWTOR HK-51, I highly recommend to read Dulfy's Companion Droid Quest Guide.
The SWTOR HK-51 Acquisition Cinematic
Also as part of SWTOR Patch 1.5, there are tons of added mission in Section X. Which is previously untouched are of the prison world of Belsavis, a brand new mission where players can find daily challenges. Players must fly to Section X and secure the target of their search to be richly rewarded.
Lastly with Patch 1.5, Nightmare Mode is now added in Operation: Explosive Conflict this will give end-game players something to puzzle over for a while.
This SWTOR Patch 1.5 is truly an awesome update and expecting more significant game update before the year is out!
FOR CHEAP SWTOR CREDITS, SHOP NOW AT GUY4GAME!
SWTOR 1.5 Patch Notes
Game Update 1.5: HK-51 Activated
Highlights
Free-to-Play is here! Players can now experience

Star Wars

: The Old Republic up to level 50 (with certain restrictions) without paying a subscription fee.
The Cartel Market is now accessible. Players can use Cartel Coins to purchase boosts, unlocks, cosmetic items, and more!

Travel to Section X on Belsavis and learn why the nefarious Dread Guard has seized control of this ravaged area of the planet! Section X can be accessed on Belsavis and via the daily mission shuttles.

HK-51 can now be acquired as a Companion Character! A shipment of the infamous Assassin Droids can be found in the wreck of an Imperial transport ship, The Fatality, in Section X. Reactivating HK-51 requires finding and assembling parts from across the galaxy.
Nightmare Mode is now available for Operation: Explosive Conflict! Bosses in Nightmare Mode present a new level of challenge, new mechanics, and high-quality rewards (such as a new vehicle and Dread Guard set pieces)!
Dreadtooth, a new world boss, can be found roaming Section X. Each time Dreadtooth is defeated, he returns with a temporary, stacking power buff which increases his difficulty and the quality of his loot rewards.
General
The names of guilds that are inactive (any guild that has had no members log in for 8 weeks) will now be released for use by new guilds. If a guild member logs back in once a name is released, that guild member can reclaim the guild's name if it has not been taken. If the name has been taken, the guild will be granted a free rename.
If no member of a guild logs in for 8 weeks, the next guild member to log in will be promoted to Guild Leader.
Classes and Combat
Subscribers are no longer charged credits for skill point re-specializations.


Jedi Knight

Sentinel

Watchman

Merciless Zeal's healing has been reduced to .5% per point (down from 1% per point).

Sith Warrior

Maurader

Annihilation

Hungering's healing has been reduced to .5% per point (down from 1% per point).
Group Finder
Travelling to a new area while in a Group Finder queue no longer occasionally causes the UI to behave as if the player is not in the queue.
Missions and NPCs
Some missions on Origin Worlds now offer Experience Boost rewards.
Items
The cost to remove mods from items has been reduced for subscribers.
The Collector's Edition vehicle and all vehicles available in the Cartel Market can now be used with the lowest-level rank. Their speed now scales based on the rank unlocked by characters.
Subscribers can now access speeders at level 15.
Campaign armorings are now available for purchase on the Black Hole vendor for Black Hole Commendations.
Dread Guard relics are now available on the Daily vendor for 300 Daily Commendations.
A new set of droid armor is now available from the Daily vendor.
More robes have been adjusted so that their backsides are not inappropriately large when worn.
New speeder vendors are now available on Taris (Republic) and Balmorra (Imperial).
Legacy
Players can now unlock their Legacy at level 10.
The Legacy panel now accommodates much larger Legacies.
Each rank of the Legacy Experience perk now grants +6% experience (as opposed to a gradual increase of +2/4/6/8/10). The total possible bonus from Legacy perks is still 30% in each category.
PvP
The caps for Warzone and Ranked Warzone Commendations have been increased. All players can now accumulate up to 4500 Ranked Warzone Commendations and 2750 Warzone Commendations.
Elite War Hero armorings, barrels, and hilts have had their stats improved slightly.
UI
Several emotes are now voiced!
Subscribers now have access to 2 additional quickslot bars.
Different quickslot bars can no longer be jumped to in the primary quickslot bar if they are already visible in another location on-screen.
The deposit for items placed on the GTN is now a percentage of the item's value (instead of being based on the player's set price).
Vehicles, mini-pets, weapons, the results of crafting schematics, and color crystals can now be previewed in the item preview window.
An additional Cargo Hold can now be purchased.
The title selection window is now scrollable. Players can now choose their Legacy name display from this window.
A progress bar has been added to the currency pane to indicate player proximity to currency caps.
Miscellaneous Bug Fixes
Several typos and instances of incorrect text have been corrected in all languages.
The Imperial Medcenter in the vicinity of the wreck of the Ambria's Fury has been moved Northeast.
An issue that caused dark outlines to appear around characters' eyes has been corrected.
VISIT GUY4GAME SWTOR CREDITS STORE FOR FAST & SAFE DELIVERY!
For a cheap SWTOR Credits and experience a 24-hour delivery guarantee, shop now at guy4game. For reviews, user feedback and coupons visit Guy4game Review.
Source: swtor.com