Bathrooms today are being designed and used as living spaces – a place to relax and recharge. Because of it multi-functionality, modern bathroom lighting with trimless downlights should be a blend of function and style, allowing for flexibility in illumination for need and mood at different times of the day. Try to have wall switch inside a bathroom perfect for adjusting LED brightness.
Lighting experts have plenty of bathroom lighting tips. The first tip all designers agree on is that you design the bathroom with layers: ambient, task, accent and/or decorative. A mix of these different layers is essential to help blend all the elements and create a unified look.
In the bathroom, ambient light fills the room, serving as a substitute for natural light. Usually, it is supplied by a central fixture – usually a surface-mounted ceiling light or a multi-light bath bar. These lights are great for general ambient light, which is important in the bathroom. To get more ambient light, a bathroom lighting tip is to install recessed lights. And for another designer bathroom lighting tip: for the best ambient lighting, recessed downlights should be spaced close enough together for their light patterns to overlap.
High ceilings have a tendency to pull recessed lighting away from where it's needed. A good option for high ceilings is a pendant light fixture because it drops light back where it belongs. Pendants come in a variety of colors, shapes and styles to fit any bathroom's decorating style. Randall Whitehead, author and lighting designer of Randall Whitehead Lighting Solutions, offers this bathroom lighting tip: think more creatively in your choices for ambient lighting. "I suggest considering a pendant lamp or chandelier instead," he told HGTV.com
The Other Glass Shades Collection by Forecast offers a variety of contemporary styled pendants that provide plenty of ambient light.
Mini chandeliers, like those available from the Meridian Collection by Hinkley Lighting, provide a soft, yet elegant modern design. The Meridian 3-Light Pendant has matching wall sconces and vanity lights to complement.
Task lighting illuminates "work spaces," which in a bathroom is the vanity and shower area. Tubs and showers, as well as toilets, need general light, and designers say recessed fixtures also work well here. Keep in mind that the housing used must be "wet" or "shower-location" rated. If you install contemporary bath lighting, including exposed lights, use frosted bulbs to cut down on glare.
The vanity is the most critical lighting of the room. Another bathroom lighting tip is to not put fixtures directly over the mirror. This is the most common mistake people make. Doing so casts hard shadows on the face, making daily grooming tasks like shaving and applying makeup more difficult. You can get great vanity lighting from a multi-light fixture over the mirror for horizontal illumination. The Bath 3-Light Bath Vanity Strip from the Bath Collection by Savoy House Lighting provides shadow-free lighting when directed downward.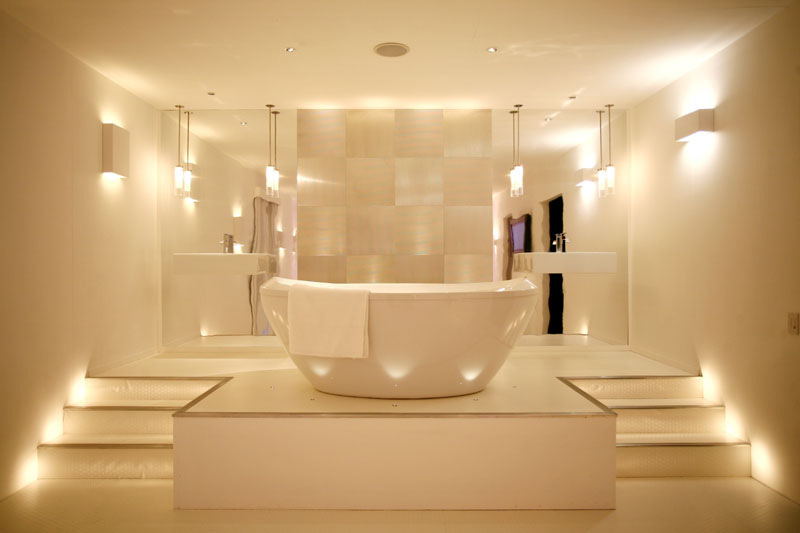 Another designer bathroom lighting tip to get the best task lighting at the sink area is to install dual-mounted vertical fixtures or sconces at eye level that flank the mirror to provide cross-illumination. Fixtures next to the mirror should be 36 to 40 inches apart to eliminate shadows under the eyes and chin. Another easy solution is to hang lights from the ceiling that can be positioned right at eye level. Depending on the style of the bathroom, sconces can be very traditional in style or decorative art-like pieces. The Mesh Collection by ET2 is a perfect example. The fixture starts with an industrial look but then takes it to another level with unmistakable touches of class and sophistication. Stout cylinders of clean, white glass and a textural layer of silver mesh mount onto a slice of reflective mirror to double their presence. Sleek disks of gleaming chrome form the cap and base for each cylinder, which house a crystal clear, 40-watt, G9 xenon bulb for the ultimate in aesthetics and function.
A new trend in bathroom lighting is to hang fixtures on the mirror itself, hiding the hardware. This gives a sleeker, cleaner look and creates cross-illumination. Whitehead recommends 100 watts of light per fixture in a master bath, and 40 watts per fixture in a powder room. With fixtures in front of the mirror it boosts the light even more. George Kovacs Lighting's Saber Bath Vanity with etched opal glass works well for this look and feel.
Decorative or accent lighting is the eye candy. The purpose of decorative lighting is to add interest to a space and draw attention to a particular feature or object in the room. Examples include chandeliers, candlestick-type wall sconces, custom-made fixtures and pendants, which can add color and pattern to the room.  A small recessed spotlight – like those offered in the Mini Spot Collection by House of Troy — directed at a piece of decorative art or a beautiful powder room basin creates another layer of light in the bathroom. Similarly, a recessed shower fixture can be angled (most can be tilted up to 35 degrees at installation) to highlight tile work or fixtures and make them sparkle.
The chandeliers in the Veubronce Collection by ELK Lighting are a great example of adding eye candy to the bathroom. Inspired by the rainforest of the Amazon, the collection – wrapped in gold leaf – contains large hand-formed clear glass reminiscent of sun-kissed raindrops that appear poised to drip from its cast bronze branches. The collection features chandeliers, wall lights and sconces.
Another bathroom lighting tip is to consider the bulbs. A crisp white light tends to render skin tones most accurately. Halogen bulbs set the gold standard. Low-voltage varieties (with a built-in transformer that converts 120 volts to 12 volts) are compact, and the smaller bulb gives a nice sparkling effect. Halogen bulbs cost more than standard incandescents but can last three times as long. Many feature screw-in bases; those labeled medium-base (MB) are shaped like standard incandescents, so they fit most fixtures. The newest compact fluorescent bulbs also offer good color rendering and are up to 10 times more efficient than regular incandescent bulbs.
One last bathroom lighting tip: use dimmers in the bathroom to control the lighting and the mood. In a very small space like a powder room, dimming the vanity fixtures might even provide all-in-one task, ambient and accent lighting. Today's dimmers work for every kind of light source, though you need to know what to ask for. A 120-volt incandescent or halogen light source will need an incandescent dimmer, while low-voltage and fluorescent fixtures require their own compatible dimmers.
Source: farreys.com
Related Articles
Bathroom LIghting Ideas Every Style